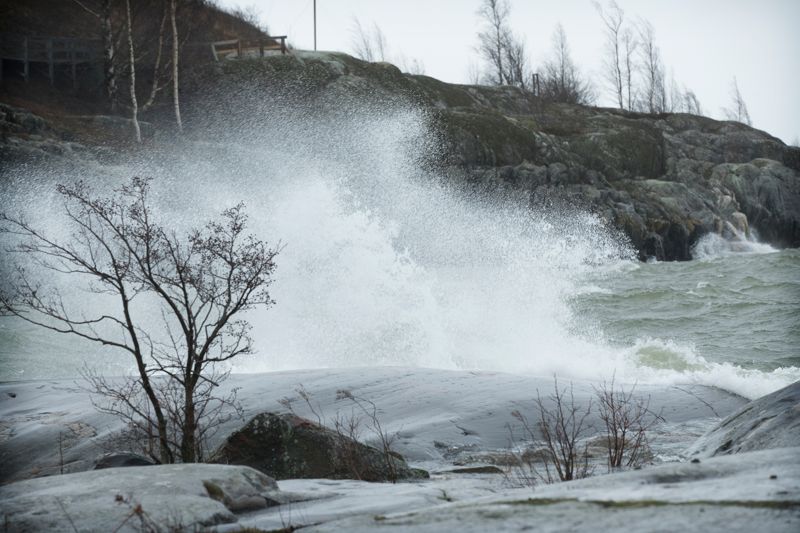 Strong winds are expected to reach Nyland from midnight. The wind gusts can reach speeds of as much as 25 meters per second and therefore the Meteorological Institute raises the warning to red, which means very dangerous weather.
The effects of the advance of the winds include damage and the need for clearing. Prolonged power outages can also occur and also disruptions in water distribution and telecommunications traffic.
Västra Nyland's rescue service has also warned via the message service X that anyone who intends to go out on the roads should think twice because of the strong winds.
Ilmatieteen laitos varoitta huomisen kovista tuulista ja sateestakin. Huomioi tämä, jos läht tien taëlle liikmenseen.#LUpalastus
The Meteorological Institute has warned of strong wind and rain tomorrow. You should take that into account if you go out on the road in traffic.

— LU pelastuslaitos (@lupelastus) September 19, 2023
The same applies to the rescue service in the city of Helsinki, where it is stated that the situation looks most serious during the morning rush hour traffic. Everyone is urged to take the weather into account and that they have increased their preparedness for the storm.
Ilmatietienlaitokselta tuulivaroitus vuorokaudeksi 20.9. from keskiyöstä. Säätilanne very dangerous. Pahin ant mäkkä osuu aamuilkeinen aggen.
Kehotamme alla toimimaan säätilan vaatimalla mana.
Olmeme varautunete myrskyyn nostamalla valmiutta tillanekeskussä.

— Helsingin kaupungin pelastuslaitos (@stadinbrankkari) September 19, 2023
Mellersta Nyland's rescue service urges people to collect loose items on the farm. They also want to remind people that trees can fall over in the storm and therefore not to park near a tree unless absolutely necessary.
Nyt säytä säää irtonaiset tavarat pois pihalta. Ant-tree voi säää mm puiden kaatumisia, jotte esim. autoa ei kannta tähää puun viereen, jos se on öligätä pydäköidä muualle. https://t.co/JLNOftLR3i

— Keski-Uudenmaan pelastuslaitos (@KUpelastus) September 19, 2023
If you come across a tree that has fallen over and the situation could be dangerous, you should call 112. If the blown-down tree does not pose a danger, it is the landowner's responsibility to clear it away.